A Biennial Conference of the SCA and SVA ➸ May 7-8-9
Keynotes · Ponencias Magistrales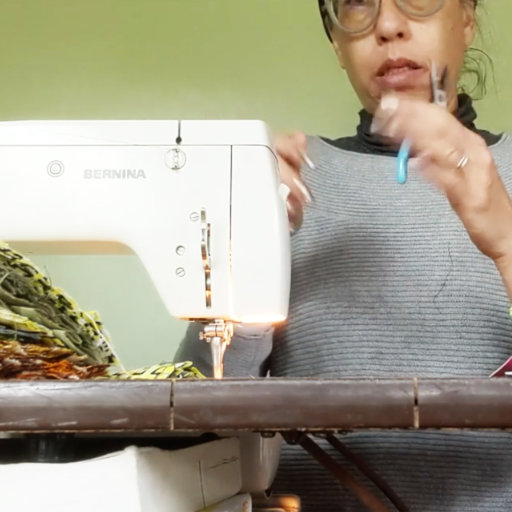 Radical Pedagogies · Pedagogías radicales
KEYWORDS · PALABRAS CLAVES: Covid-19, pedagogy, universities
Elizabeth Chin offers an auto-ethnographic snapshot of what it feels like to teach and learn in the university in the wake of the COVID-19 crisis. Leigh-Ann Naidoo (University of Cape Town) was not able to join us for pandemic-related reasons.
Elizabeth Chin ofrece una auto etnografía panorámica de lo que se siente enseñar y aprender en la universidad tras la crisis de COVID-19. Leigh-Ann Naidoo (Universidad de Ciudad del Cabo) no pudo unirse a nosotros por razones relacionadas con la pandemia.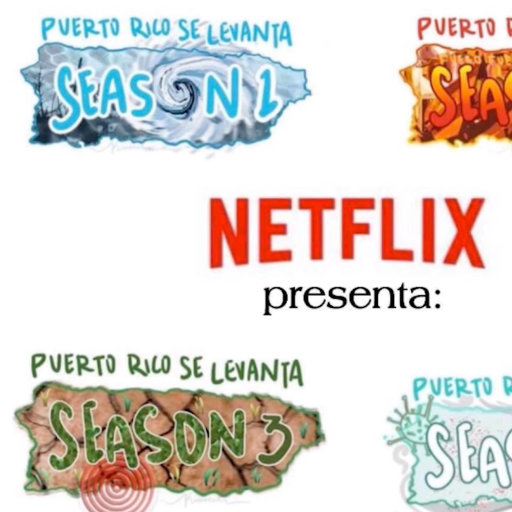 Unsettling Imperialism · Imperialismo inquietante
KEYWORDS · PALABRAS CLAVES: Covid-19, imperialism, labor, pandemics, race
Join Yarimar Bonilla, Junaid Rana, and Narges Bajoghli as they discuss the imperial, racial, and labor politics of a global pandemic. How is imperialism unsettled in the era of the coronavirus?
Únase a Yarimar Bonilla, Junaid Rana y Narges Bajoghli mientras discuten las políticas imperialistas, raciales y laborales de una pandemia global. ¿Cómo se desestabiliza el imperialismo en la era del coronavirus?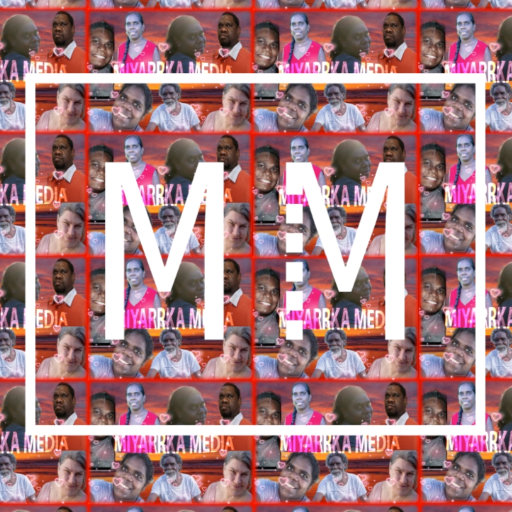 Miyarrka Media: Making Worlds Otherwise · Hacer mundos de otra manera
KEYWORDS · PALABRAS CLAVES: Aboriginal Australia, activism, art, connection, phones, Yolnu
This video by Miyarrka Media is an invitation to participate in the Yolnu art of connection. It is a remix of a book, which was a remix of an exhibition, which was a remix of a series of small artworks made by remixing the photographs of our everyday lives in the mobile phones we use to connect with one another.
Este video de Miyarrka Media es una invitación a participar en el arte de la conexión Yolnu. Es una remezcla de un libro, que era una remezcla de una exposición, que era una remezcla de una serie de pequeñas obras de arte realizadas al remezclar las fotografías de nuestra vida cotidiana en los teléfonos móviles que utilizamos para conectarnos.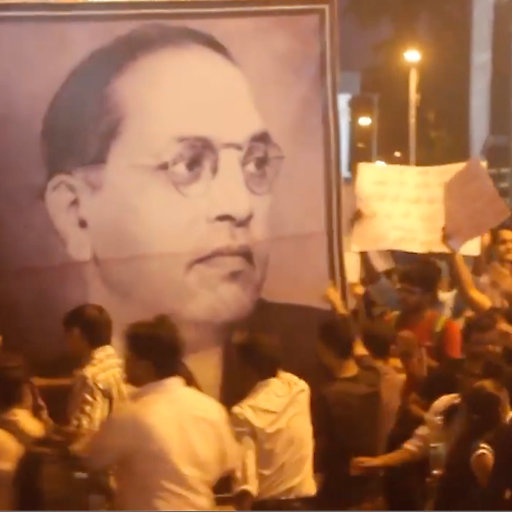 Dalit Camera: Against Institutional Murder · Contra el asesinato institucional
KEYWORDS · PALABRAS CLAVES: activism, Dalits, India, institutions, violence
Dalit Camera is a YouTube channel that archives the experiences of Dalits. This film, Against Institutional Murder, is a story told via protest video, documenting the aftermath of the death of Rohith Vemula.
Dalit Camera es un canal de YouTube que archiva las experiencias de Dalits. Esta película, Contra el Asesinato Institucional, es una historia contada a través de un video de protesta, que documenta las consecuencias de la muerte de Rohith Vemula.
Our Panels · Nuestros Paneles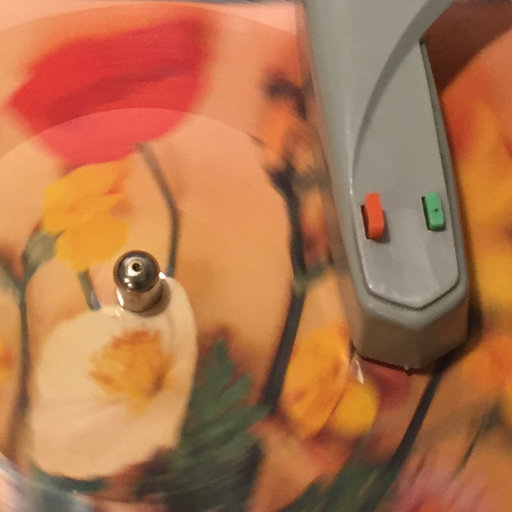 Accessing Audial Media · Accesso a medios audiales
KEYWORDS · PALABRAS CLAVES: sound, accessibility, archives, disability
Popular music, whether as part of global recording industries or within local networks of circulation, raise not only questions of ownership, but also crucial questions about access. What does one access when hearing songs? When buying records? When copying tapes? When streaming protest performances?
La música popular, ya sea como parte de las industrias de grabación global o dentro de las redes locales de circulación, plantea no solo cuestiones de propiedad, sino también cuestiones cruciales sobre el acceso. ¿A qué se accede al escuchar canciones? ¿Al comprar discos? ¿Al copiar cintas? ¿Cuando se transmiten actuaciones de protesta?
Cosmopolitics at Sea · Cosmpoliticas en el mar
KEYWORDS · PALABRAS CLAVES: cosmopolitics, common worlds, oceans, sea
This panel aims at exploring the relevance of rising seas to the cosmo-politics of distribution, but also to anthropological theory and the possibilities of constructing common worlds.
Este panel tiene como objetivo explorar la relevancia de los mares en ascenso para la cosmopolítica de distribución, pero también para la teoría antropológica y las posibilidades de construir mundos comunes.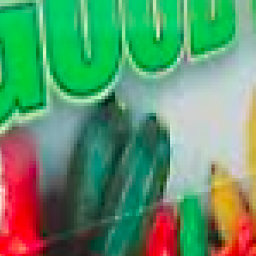 Distribute(d) Unequally: Food Stories from Cape Breton Island · Distribución desigualdad: Historias de alimentos de la isla de Cape Breton
KEYWORDS · PALABRAS CLAVES: food security, local food systems, food justice, agritourism, Cape Breton, Canada
"Distributed Unequally" illustrates the ways the inequitable distribution of wealth and resources effects Cape Breton nationally and provincially. Cape Breton Island is a have-not region in a have-not province and despite the disadvantages this brings, people are resisting the distinct tensions around land and industry that have impacts on food.
"Distribución Desigual" ilustra las formas en que la distribución desigual de la riqueza y los recursos afecta a Cabo Bretón a nivel nacional y provincial. La isla del Cabo Bretón es la región más pobre dentro de una provincia pobre, y, a pesar de las desventajas que esto trae, la gente esta resistiendo las diferentes tensiones sobre la tierra y la industria, las cuales tienen un impacto en los alimentos.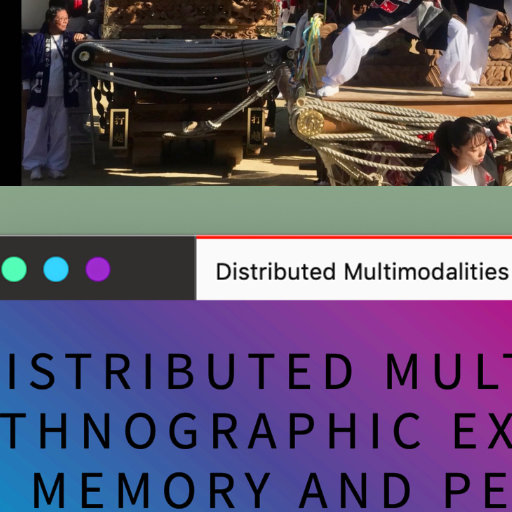 Distributed Multimodalities: Ethnographic Experiments in Memory and Performance · Multimodalidades distribuidas: Experimentos etnográficos en memoria y performance
KEYWORDS · PALABRAS CLAVES: memory, performance, multimodality, Japan, USA
This panel explores historical, social, and cultural memory as distributed phenomena in the context of performance.
Este panel explora la memoria histórica, social y cultural como fenómenos distribuidos en el contexto del performance.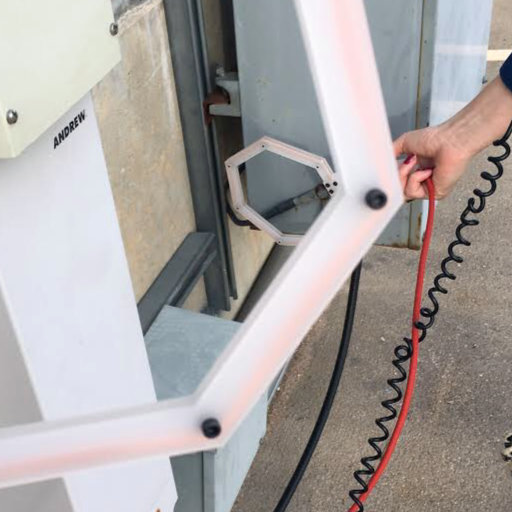 Echoes and Edges: Sonic Forms for Distributed Listening · Ecos y bordes: Formas sónicas para la escucha distribuida
KEYWORDS · PALABRAS CLAVES: sound, listening, schizophonia, field recording, posthuman
We ask: how might multimodal compositional attunements to multispecies encounters reveal our interdependency? In turn, how might these collective forms of listening challenge the terms of ethnographic authorship or its expressions, and explore the possibilities of a posthuman, or inhuman, perception?
Preguntamos: ¿cómo podrían las sintonizaciones compositivas multimodales con los encuentros multiespecies revelar nuestra interdependencia? A su vez, ¿cómo podrían estas formas colectivas de escucha desafiar los términos de autoría etnográfica o sus expresiones, y explorar las posibilidades de una percepción posthumana o inhumana?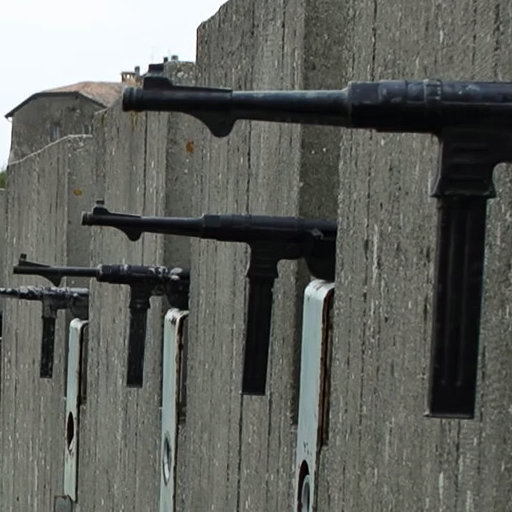 For an Anthropology of Fascism · Por una antropología del fascismo
KEYWORDS · PALABRAS CLAVES: fascism, anti-fascism, resistance, Italy
This panel focuses on studies, research, and practices concerning the contemporary emergence of political expressions related to fascism and anti-fascism.
Este panel se enfoca en estudios, investigaciones y prácticas relacionadas con el surgimiento contemporáneo de expresiones políticas relacionadas con el fascismo y el antifascismo.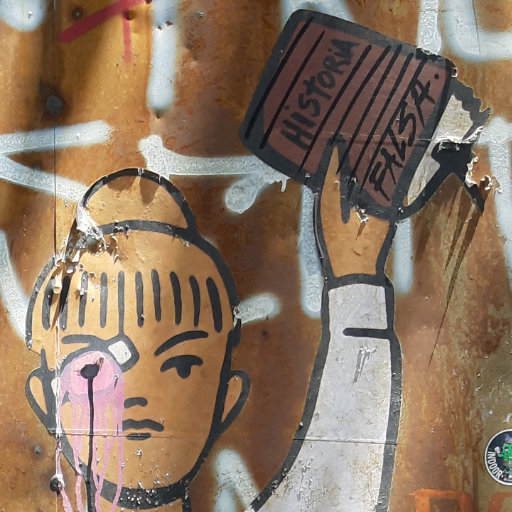 "Hasta que la dignidad se haga costumbre": El despertar de Chile · "Until Dignity becomes a Habit": The Awakening of Chile
KEYWORDS · PALABRAS CLAVES: Chile, Wallmapu, estallido social, social revolt, dignidad, dignity
El 18 de Octubre, 2019, después de semanas de evasiones masivas en el metro de Santiago, se produjo una movilización de protestas en las calles sin precedentes desde la vuelta a la democracia (1990). La respuesta del gobierno fue la más brutal represión. Las causas del "estallido" son múltiples pero todas apuntan a una precarización de la vida, producto del neoliberalismo impuesto durante la dictadura de Pinochet (1973-1990) y arraigado durante 30 años de democracia.
On October 18, 2019, after weeks of mass fare evasions in Santiago's subway system, a mobilization of street protesters, unprecedented since the return of democracy in 1990, began. The government's response was brutal repression. The causes of the "eruption" are multiple, but all point to the precariousness of life produced by neoliberal changes imposed during the Pinochet dictatorship (1973-1990) and cemented in the subsequent 30 years of democracy.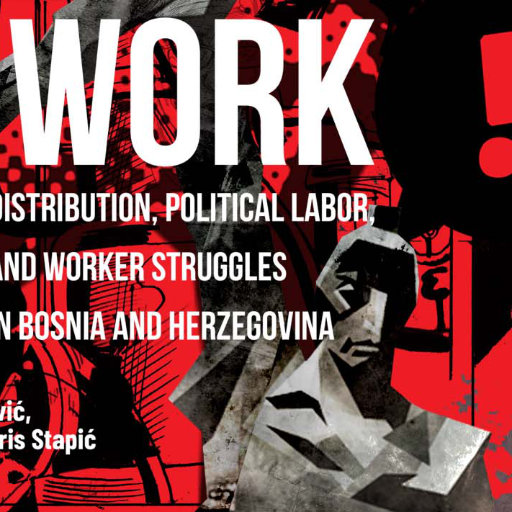 How Do We Work Together? Distribution, Political Labor, and Worker Struggles in Bosnia and Herzegovina · ¿Cómo trabajamos juntos? Distribución, trabajo político y luchas obreras en Bosnia-Herzegovina
KEYWORDS · PALABRAS CLAVES: labor, activism, post-socialism, collaboration, knowledge production, Bosnia and Herzegovenia, Canada
How, under what circumstances and to what ends does political labor become (re)distributed? What might those forms of (re)distribution look like in practice and what kinds of effects might they produce for both activism and anthropology?
¿Cómo, bajo qué circunstancias y con qué fines se (re) distribuye el trabajo político? ¿Cómo se verían esas formas de (re) distribución en la práctica y qué tipo de efectos podrían producir tanto para el activismo como para la antropología?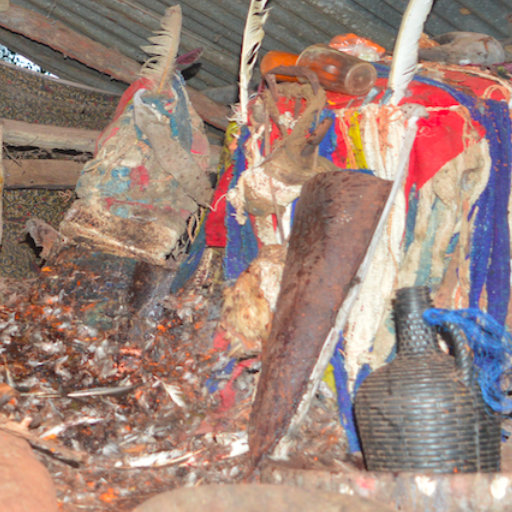 Identity, Duality, Hybridity – Epistemic Valences in Post-Colonial Africa · Identidad, dualidad, hibridación: valencias epistémicas en África poscolonial
KEYWORDS · PALABRAS CLAVES: identity, ontological duality, epistemic hybridity, anthropology, postcoloniality, Africa
This panel concerns itself with ways in which contemporary African anthropologists and other humanistic scholars are grappling with their decentered selves in a global context within which Euro-American epistemes have been historically centered: In what ways do they deal with the subjective duality of indigenous and received epistemologies in explaining their own realities?
Este panel se ocupa de las formas en que antropólogos africanos contemporáneos y otros académicos de las humanidades están lidiando con su ser descentrado en un contexto global en el cual los epistemes euroamericanos han estado históricamente en el centro: ¿de qué manera lidian con la dualidad subjetiva de epistemologías propias y recibidas para explicar sus propias realidades?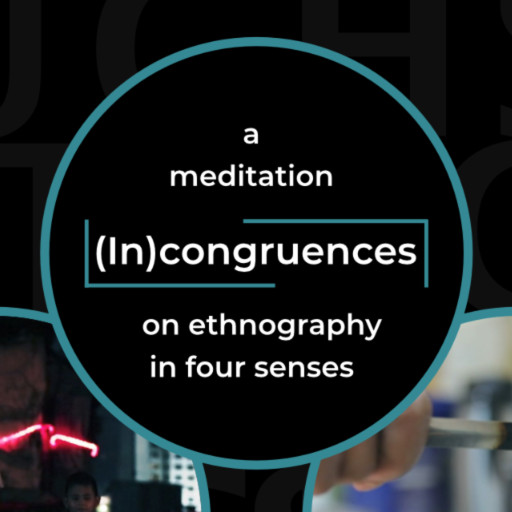 (In)congruences: A Meditation on Ethnography in Four Senses · (In)congruencias: Una meditación sobre etnografía en cuatro sentidos
KEYWORDS · PALABRAS CLAVES: sensory ethnography, Mizoram, Palestine, Philippines, Thailand
A meditation on ethnography in four senses, this visual anthology gestures toward the potential and the limits of our touching, hearing, scenting, and seeing as scholars-artists, as well as the ways in which we are simultaneously touched, heard, scented, and seen.
Una meditación sobre etnografía en cuatro sentidos; esta antología visual gesticula sobre el potencial y límites de nuestra habilidad de tocar, oír, oler y ver como académicos-artistas, así como las formas en que simultáneamente somos tocados, escuchados, aromatizados y vistos.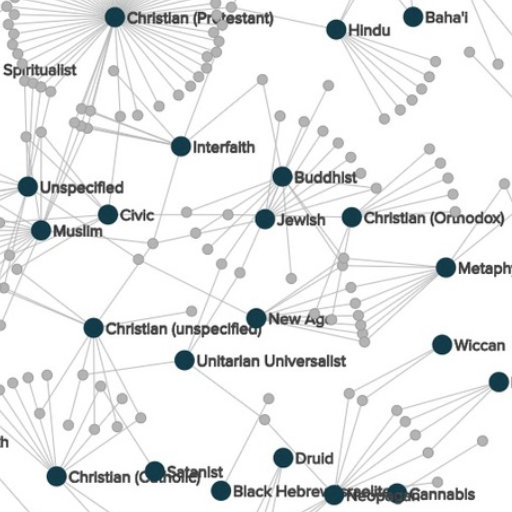 Listening and Community Engagement in the American Religious Sounds Project · Escucha y participación comunitaria en el Proyecto Sonidos Religiosos Americanos
KEYWORDS · PALABRAS CLAVES: religious sound, anthropology of sound, sound studies, field recording, community engagement, USA
What does religion in the United States sound like? How do we understand American religious pluralism differently when we begin by listening for it? These questions animate the American Religious Sounds Project (ARSP) which offers new resources for documenting and interpreting the diversity of American religious life by attending to its varied sonic cultures.
¿Cómo suena la religión en los Estados Unidos? ¿Cómo entendemos el pluralismo religioso estadounidense de manera diferente cuando comenzamos por escucharlo? Estas preguntas animan el Proyecto de Sonidos Religiosos Americanos (ARSP por sus siglas en inglés), que ofrece nuevos recursos para documentar e interpretar la diversidad de la vida religiosa estadounidense atendiendo a sus variadas culturas sonoras.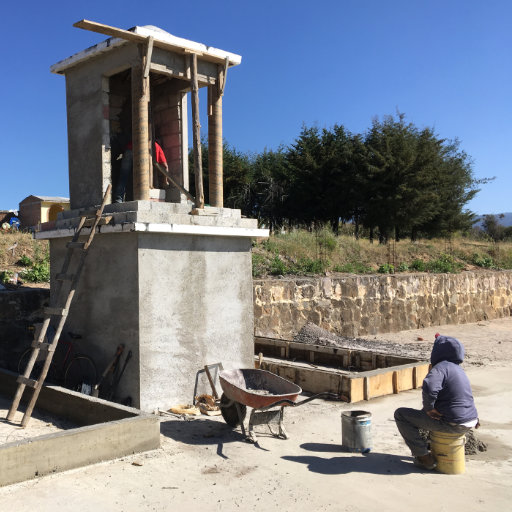 Narco-Aesthetics · Narco-estética
KEYWORDS · PALABRAS CLAVES: narcotrafficking, aesthetics, Latin America, organized crime
Narco-aesthetics refers to the sensory experiences and embodied engagements with narco-power understood as a capacious term that encompasses petty dealers, transnational criminal enterprises, and the wider political economy of organized crime. Narco-aesthetics is also a critical ethnographic approach that seeks to highlight civilian subjectivities often rendered invisible by journalistic, governmental, and scholarly accounts of the war on drugs.
Esta se refiere a las experiencias sensoriales y relaciones corpóreas con el narcopoder, entendido como un término amplio que abarca a pequeños traficantes, empresas criminales transnacionales y la economía política más amplia del crimen organizado. La narcoestética también es un enfoque etnográfico crítico que busca resaltar las subjetividades de los civiles a menudo invisibilizadas por los informes periodísticos, gubernamentales y académicos de la guerra contra las drogas.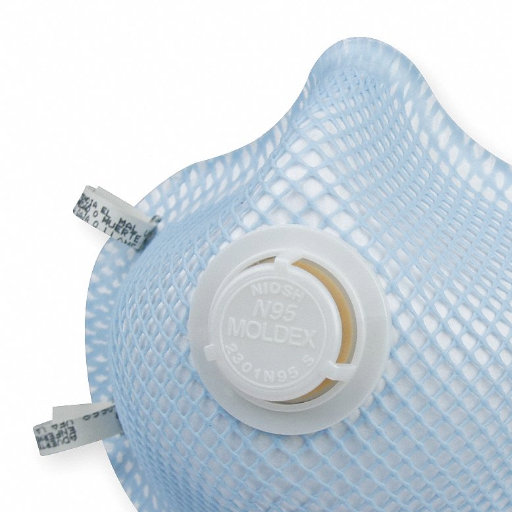 Pandemic: Reflections on an Unfolding Crisis · Pandemia: Reflexiones sobre una crisis en desarrollo
KEYWORDS · PALABRAS CLAVES: Covid-19, health, pandemics
In this late-breaking panel, three anthropologists reflect on the Covid-19 pandemic. As anthropologists, all argue that Covid-19 is not only a biological event.
En este panel de última hora, tres antropólogos reflexionan sobre la pandemia de Covid-19.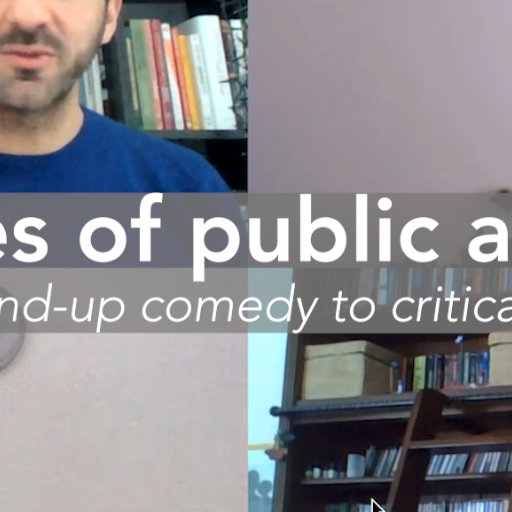 Performances of Public Anthropology · Performances de antropología pública
KEYWORDS · PALABRAS CLAVES: experimental methods, anthropology and performance, public anthropology, experimental humanities
This panel focuses on alternative ethnographic methods -- extra-textual formats (videos, performance art, song) and experimental public events (stand-up comedy, games, confestivals) -- as modes of disseminating anthropological thought beyond the academy and discusses how performative formats can contribute to rethinking theoretical and methodological issues in anthropology and redefining our relation to the public.
Este panel se enfoca en métodos etnográficos alternativos—formatos extra textuales (videos, performance, canciones) y eventos públicos experimentales (monólogos humorísticos, juegos, festivales)—como modos de diseminar el pensamiento antropológico más allá de la academia, y discute cómo los formatos performativos pueden contribuir a repensar cuestiones teóricas y metodológicas en la antropología y redefinir nuestra relación con el público.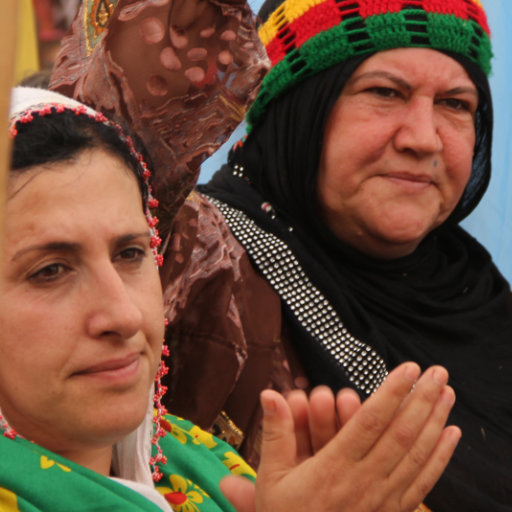 Reclaiming Knowledge: Alternative Knowledge Practices, Radical Pedagogies, and the Kurdish Experience · Reclamando el conocimiento: Prácticas alternativas de conocimiento, pedagogías eadicales y la experiencia Kurda
KEYWORDS · PALABRAS CLAVES: politics of knowledge, pedagogy, media, Kurds, Syria, Iraq, Turkey, Iran
Having faced various forms of oppression, Kurdish activists have developed their own practices of knowledge production outside state-sanctioned and state-sponsored institutions. Through these practices, Kurdish activists produce alternative forms of knowledge on Kurdish language, politics and society, and engage in decolonizing and radical political projects.
Habiendo enfrentado varias formas de opresión, los activistas kurdos han desarrollado sus propias prácticas de producción de conocimiento fuera de las instituciones aprobadas y patrocinadas por el estado. A través de estas prácticas, los activistas kurdos producen formas alternativas de conocimiento sobre el idioma, la política y la sociedad kurda, y participan en proyectos políticos radicales y descolonizadores.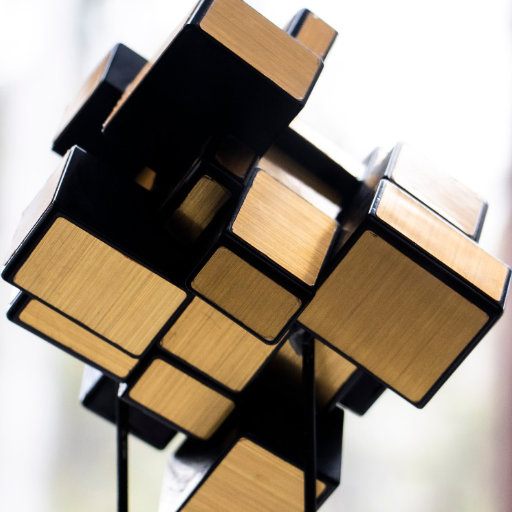 (Re)distribuir el conocimiento: Pendientes de la "discapacidad" · (Re)distribute Knowledge: Contours of "disability"
KEYWORDS · PALABRAS CLAVES: Estudios de discapacidades, dislocado/desencajado/misfit, crítica a la "normalidad," creatividad, ingenio, agencia
Lo "dislocado/desencajado" (misfit) evidencia relaciones asimétricas repensando discursos y praxis del canon hegemónico desde el que se enuncia la "normalidad". Nuestro panel propone repensar/reconocer la agencia, creatividad e ingenio de los sujetos con (dis)capacidades.
We use the term misfit (desencajado) for observing the particularities in the experiences of disability, breaking with a "generic theoretical" vision of bodies and thinking of disability as an ever-changing relationship. Our panel recognizes/rethinks the agency, creativity and ingenuity of subjects with (dis)abilities.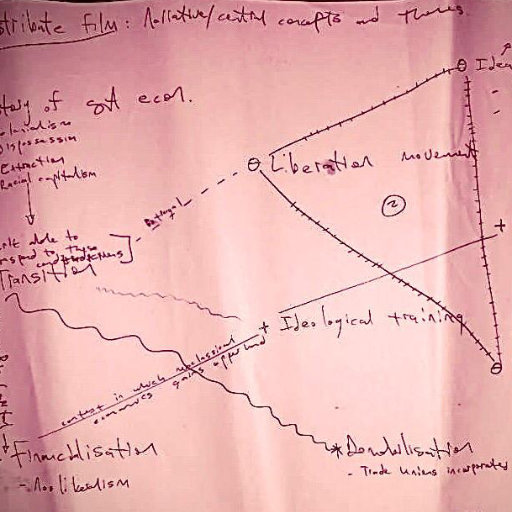 Re/Distribute: Three Radical Economists on (Post)Apartheid · Re/distribuir: Tres economistas radicales en el (post)apartheid
KEYWORDS · PALABRAS CLAVES: Cape Town, Johannesburg, Tshwane, London, other worlds not yet named, 1960s
Two radical collectives working inside and outside of the academy to agitate with ideas and actions against ongoing histories of dispossession consider what redistribution means in the most unequal national context on earth. In a 50-minute short film, we look at how the promises of redistribution in the anti-apartheid liberation movement were foreclosed during the transition out of apartheid in South Africa.
Dos colectivos radicales que trabajan dentro y fuera de la academia para producir agitación con ideas y acciones en contra de las continuas historias de desposesión, consideran lo que significa la redistribución en el contexto nacional más desigual en la tierra. En un cortometraje de 50 minutos, examinamos cómo las promesas de redistribución en el movimiento de liberación anti-segregación, fueron ejecutadas durante la transición del apartheid en Sudáfrica.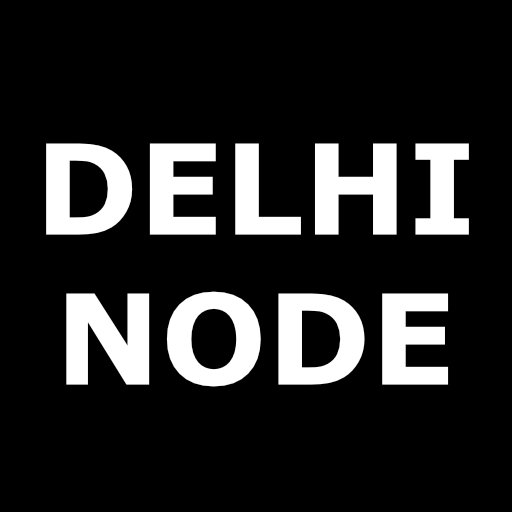 (Re)distributing Anthropological Knowledge · (Re)distribuyendo conocimiento antropológico
KEYWORDS · PALABRAS CLAVES: epistemic inequity, knowledge production, circulation-production, locational politics, Delhi, India
Using the theme of Distribute, the Delhi Node panel, "(RE)distributing Anthropological Knowledge" engages with questions of epistemological production, distribution and circulation of anthropological knowledge.
Usando el tema de Distribuir, el panel del Nodo de Delhi, "(RE) distribuyendo Conocimiento Antropológico" se ocupa de cuestiones de producción epistemológica, distribución y circulación de conocimiento antropológico.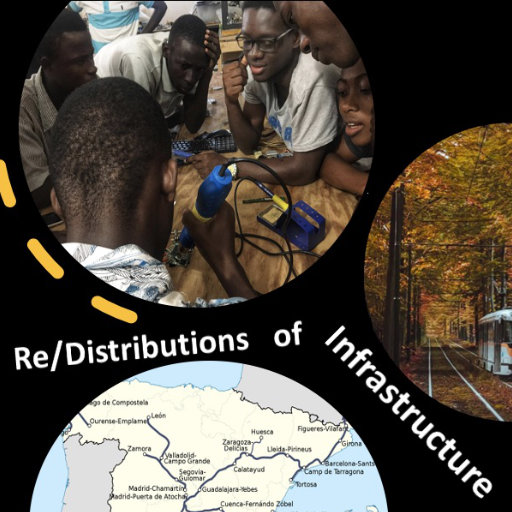 Re/Distributions of Infrastructure · Re/distribución de infraestructura
KEYWORDS · PALABRAS CLAVES: infrastructure, exclusion, inclusion, capitalist relations, meaning-making, Belgium, Spain, Togo
In this panel, we explore infrastructural arrangements in Belgium, Spain and Togo while investigating the role of the state and the way the materiality – and immateriality – of infrastructures are influenced by and influence economic redistribution, political subjectivities, and everyday life.
En este panel, exploramos los acuerdos de infraestructura en Bélgica, España y Togo mientras investigamos el papel del estado y la forma en que la materialidad - y la inmaterialidad - de las infraestructuras están influenciadas e influyen en la redistribución económica, las subjetividades políticas y la vida cotidiana.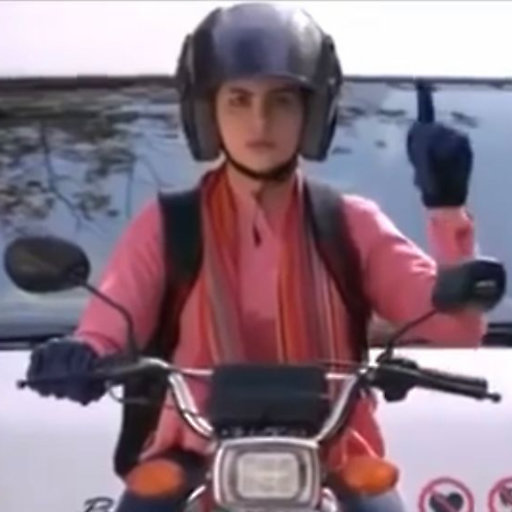 Reflecting on Feminist Praxis in Qualitative Research: Views from Pakistan · Reflexionando sobre la práctica feminista en la investigación Cualitativa: Opiniones desde Pakistán
KEYWORDS · PALABRAS CLAVES: feminism, Pakistan, ethnography, reflexivity, positionality
This panel explores the gendered articulations of qualitative research and the contours of feminist ethnographic praxis in the Pakistani context. The papers, which bridge the disciplines of film studies, linguistic and cultural anthropology, and sociology, engage the conference theme by underscoring the revolutionary potentials of qualitative research to refigure received approaches of gender, development, education, and cultural production in Pakistan.
Este panel explora las articulaciones de género de la investigación cualitativa y los contornos de la practica etnográfica feminista en el contexto pakistaní. Los documentos, que unen las disciplinas de los estudios cinematográficos, la antropología lingüística y cultural y la sociología, abordan el tema de la conferencia al subrayar los potenciales revolucionarios de la investigación cualitativa para reconfigurar los enfoques recibidos en Pakistán [desde otros sitios], de género, desarrollo, educación y producción cultural.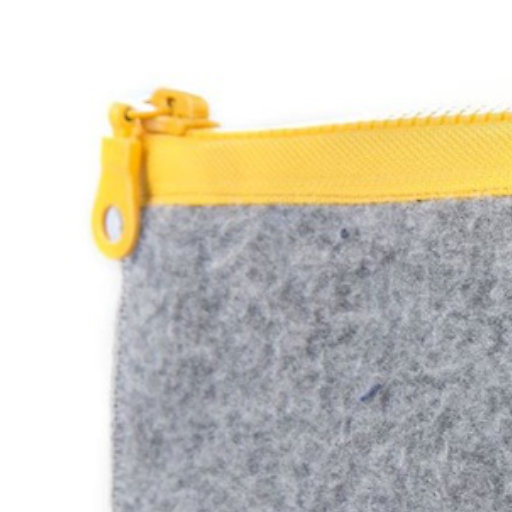 Take Care of Your "Clothes" : Exchange, Circulation and Redistribution · Cuide su "ropa": Intercambio, circulación y redistribución
KEYWORDS · PALABRAS CLAVES: distribution, clothes, refugees, women, solidarity, Greece
This virtual panel will explore some of the economic, social and moral aspects of clothing re/distribution in Greece during the period of both economic and humanitarian crisis. It will focus on the materiality of clothing and its role in refugee reception through analyzing filmed interviews, fieldwork, and photographs.
Este panel virtual explorará algunos de los aspectos económicos, sociales y morales de la re/ distribución de ropa en Grecia durante el período de crisis económica y humanitaria. Se centrará en la materialidad de la ropa y su papel en la recepción de refugiados a través del análisis de entrevistas filmadas, trabajo de campo y fotografías.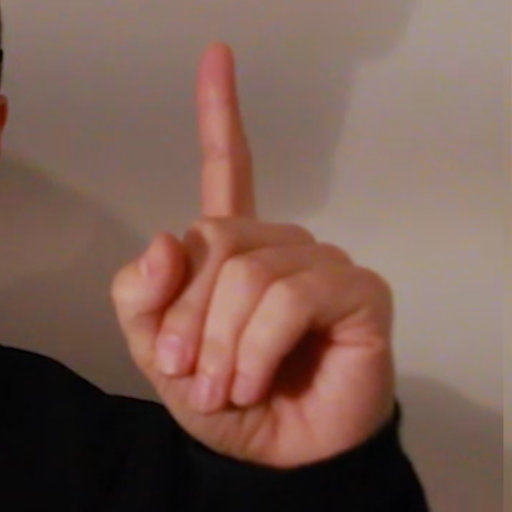 Unbounded Obligations: A Multimodal Exploration of Distributed Response-Ability In a Time of Rapid Political Change · Obligaciones ilimitadas: Una exploración multimodal de la responsa-habilidad distribuida en tiempo de cambio político rápido
KEYWORDS · PALABRAS CLAVES: responsibility, ecology, institutions, policy
This panel addresses what kind of response-abilities (Haraway 2016) are shared through participation in open social and ecological projects in democratic, national and pluri-national contexts where authoritarianism is on the rise. We consider how response-ability connects, recombines, derails or undoes economic, social, or environmental categories (Latour 1991; Mitchell 2002).
Este panel examina qué tipo de responsa-habilidades (Haraway 2016) se comparten a través de la participación en proyectos sociales y ecológicos abiertos en contextos democráticos, nacionales y plurinacionales donde el autoritarismo está en aumento. Consideramos cómo la responsa-habilidad conecta, recombina, desbarata o deshace las categorías económicas, sociales o ambientales (Latour 1991; Mitchell 2002).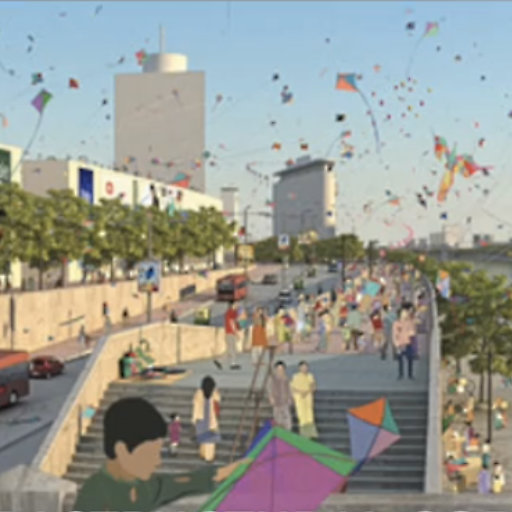 Urban (Re)Distributions: Power, Affect, and the Built Environment · (Re)distribuciones urbanas: Poder, afecto y entorno construido
KEYWORDS · PALABRAS CLAVES: waste, public culture, multimodal ethnography, sensorial ethnography, affect
This panel centers questions of distribution to understand the making of urban public spaces, socialities, and human-non human relationships. Distributions of power, affect, ideology and form are central to the construction and contestation of urban life but how can we best analyze these processes via the media that the SCA–SVA conference invites us to experiment with?
Este panel se enfoca en preguntas de distribución para comprender la creación de espacios públicos urbanos, socialidades y relaciones humano/no-humano. Las distribuciones de poder, afecto, ideología y forma son fundamentales para la construcción y la contestación de la vida urbana, pero ¿cómo podemos analizar mejor estos procesos a través de los medios que la conferencia SCA-SVA nos invita a experimentar?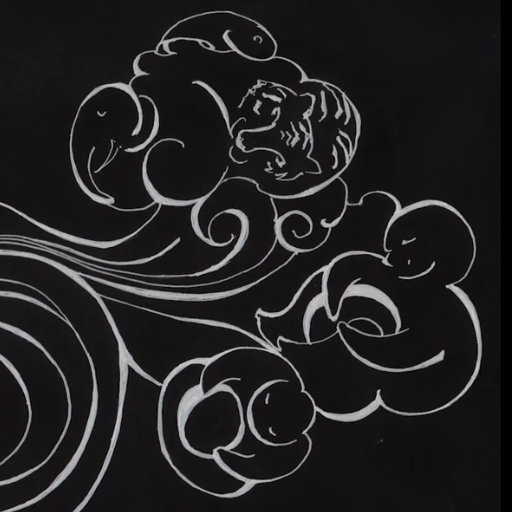 World Without Clouds: An Anthropological Experiment · Mundo sin nubes: Un experimento antropológico
KEYWORDS · PALABRAS CLAVES: speculative fiction, animacy, ontology, elemental, climate change
World Without Clouds was conceived as an experimental, multi-modal piece of speculative fiction that considers anthropological themes for the future. The story revolves around five anthropologists in the years 2045-50 who are trying to save clouds from going extinct. As climate change and authoritarian governments take over the Earth, these "salvage nephologists" invent and use an Ontology Machine to communicate with the last remaining clouds.
Mundo sin nubes fue concebido como una pieza experimental de ficción especulativa multimodal que considera temas antropológicos para el futuro. La historia gira en torno a cinco antropólogos en los años 2045-50 que intentan salvar las nubes de la extinción. A medida que el cambio climático y los gobiernos autoritarios se apoderan de la tierra, estos "nefólogos de rescate" inventan y usan una Máquina de Ontología para comunicarse con las nubes que restan.