Urban (Re)Distributions: Power, Affect, and the Built Environment · (Re)distribuciones urbanas: Poder, afecto y entorno construido
This panel centers questions of distribution to understand the making of urban public spaces, socialities, and human-non human relationships. Distributions of power, affect, ideology and form are central to the construction and contestation of urban life but how can we best analyze these processes via the media that the SCA–SVA conference invites us to experiment with? Our panel draws on multimodal and sensorial ethnography, video essays, film footage, photography and installations as distributed modes of seeing, hearing, and sensing emergent urban relations. Via collaborative work and experiments with form, we rethink anthropological methods and our modes of communication and engagement with wider publics.
Este panel se enfoca en preguntas de distribución para comprender la creación de espacios públicos urbanos, socialidades y relaciones humano/no-humano. Las distribuciones de poder, afecto, ideología y forma son fundamentales para la construcción y la contestación de la vida urbana, pero ¿cómo podemos analizar mejor estos procesos a través de los medios que la conferencia SCA-SVA nos invita a experimentar? Nuestro panel se basa en la etnografía multimodal y sensorial, ensayos de video, filmaciones, fotografías e instalaciones como modos distribuidos de ver, oír y sentir relaciones urbanas emergentes. A través del trabajo colaborativo y los experimentos con la forma, repensamos los métodos antropológicos y nuestros modos de comunicación y compromiso con públicos más amplios.
Organizers · Organizadores
Hemangini Gupta
Visiting Assistant Professor, Program in Gender Sexuality and Feminist Studies, Middlebury College
Nicholas C. Kawa
Assistant Professor, Department of Anthropology, Ohio State University
Panelists · Panelistas
Moyukh Chatterjee
Middlebury College
Matt Barlow
PhD Candidate, University of Adelaide
Locations · Ubicaciónes
Middlebury, Vermont
Columbus, Ohio
Adelaide, Australia
Last active: 3 years ago

93

members

1

post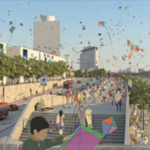 Urban (Re)Distributions: Power, Affect, and the Built Environment · (Re)distribuciones urbanas: Poder, afecto y entorno construido