Re/Distributions of Infrastructure · Re/distribución de infraestructura
Infrastructures are highly political; they are unfolding unevenly across public spaces and landscapes, circumventing some places while empowering others. The distribution of benefits and profits is entangled with, even premised on, the distribution of toxicities and exploitative power structures. The construction, investment, and performance of infrastructures all contribute to political and economic hierarchies, while at the same time, bring forth concrete sites for anthropology to trace their organization and the multiple ways in which people distribute meaning to their natural and built environments. While placing questions of distribution at the heart of research on the politics and poetics of infrastructure, this panel pays attention to both the visible, mundane, and/or material attributes and the backstage of infrastructural systems – flows of capital and labor, distribution of people, goods, ideas, and imaginaries, and the re/making of landscapes. As material modalities of power, distributions of infrastructure have been and continue to be central to the construction and contestation of sovereignty and citizenship entitlements. In this panel, we explore infrastructural arrangements in Belgium, Spain and Togo while investigating the role of the state and the way the materiality – and immateriality – of infrastructures are influenced by and influence economic redistribution, political subjectivities, and everyday life.
Las infraestructuras son altamente políticas; se desarrollan de manera desigual en espacios públicos y paisajes, evadiendo algunos lugares y potenciando otros. La distribución de beneficios y ganancias está intrincada, incluso basada, en la distribución de toxicidades y estructuras de poder de explotación. La construcción, la inversión y el desempeño de las infraestructuras contribuyen a las jerarquías políticas y económicas, al mismo tiempo que exponen sitios concretos para rastrear, desde la antropología, su organización y las múltiples formas en que las personas distribuyen significado a sus entornos naturales y construidos. Mientras ubica los cuestionamientos sobre distribución en el centro de la investigación de la política y la poética de la infraestructura, este panel presta atención tanto a los atributos visibles, mundanos y / o materiales como a los aspectos invisibles de los sistemas de infraestructura: flujos de capital y trabajo, distribución de personas, bienes, ideas e imaginarios, y la remodelación de paisajes. Como modalidades materiales de poder, las distribuciones dar infraestructura han sido y continúan siendo centrales para la construcción y la contestación de los derechos de soberanía y ciudadanía. En este panel, exploramos los acuerdos de infraestructura en Bélgica, España y Togo mientras investigamos el papel del estado y la forma en que la materialidad - y la inmaterialidad - de las infraestructuras están influenciadas e influyen en la redistribución económica, las subjetividades políticas y la vida cotidiana.
Organizers · Organizadores
Alexandra Oancă
Postdoctoral Researcher, Anthropology, KU Leuven & Culture, Place and Policy Institute, University of Hull
Panelists · Panelistas
Cruising with Tram 39 and 44: Public Transport, Elite Geographies, and the Making and Unmaking of Colonial Dreams in Post-War Brussels, Belgium · Navegando con los tranvías 39 y 44: transporte público, geografías de élite, y la fabricación y disolución de sueños coloniales en la Bruselas posguerra
Alexandra Oancă, Postdoctoral Researcher, KU Leuven & University of Hull
Capitalist Environment-Making and Spanish High-Speed Rail: Extractive Operations and Inverse Redistribution · Creación de un entorno capitalista y el ferrocarril español de alta velocidad: operaciones extractivas y redistribución inversa
Natalia Buier, Postdoctoral Researcher, Max Planck Institute for Social Anthropology
Hacking Futures: 'Democratizing Technology' in the Political Economy of Lomé's Digitalisation · Hackeando futuros: "democratizando la tecnología" en la economía política de la digitalización de Lomé
Janine Patricia Santos, PhD Candidate, KU Leuven
Locations · Ubicaciónes
Brussels, Belgium
Leuven, Belgium
Cluj-Napoca, Romania
Last active: 3 years ago

52

members

1

post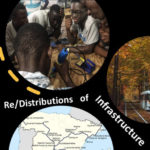 Re/Distributions of Infrastructure · Re/distribución de infraestructura