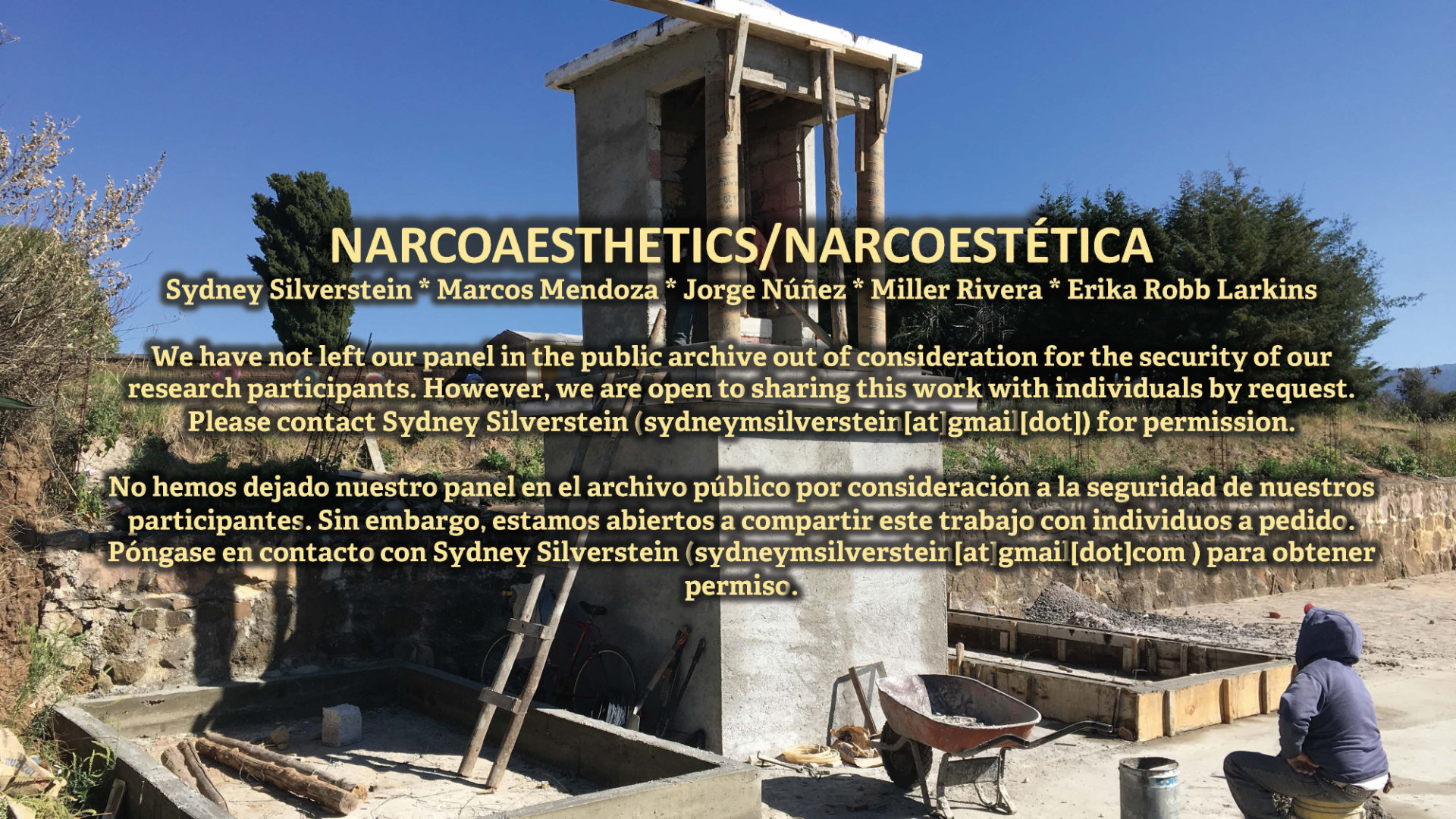 Narco-Aesthetics · Narco-estética
The hemispheric trade in proscribed substances has bound together sundry elements ranging from coca fields to clandestine airstrips, prisons to religious shrines. The drug trade has given rise to a dynamic network of actors spread across shifting terrains of production, trafficking, and interdiction. These include coca farmers, prisoners, state security forces, cartels, and rural communities—all of which are enmeshed in the signs, practices, and organizational forms that are created and sustained by narco-power.
This video presentation draws upon anthropological research in Peru, Mexico, Brazil, and Ecuador that is thematically oriented around narco-aesthetics. Narco-aesthetics refers to the sensory experiences and embodied engagements with narco-power understood as a capacious term that encompasses petty dealers, transnational criminal enterprises, and the wider political economy of organized crime. Narco-aesthetics is also a critical ethnographic approach that seeks to highlight civilian subjectivities often rendered invisible by journalistic, governmental, and scholarly accounts of the war on drugs. The first half of our presentation defines and describes narco-power and narco-aesthetics, while the second half identifies creative, experimental ways to conduct or compose ethnographies that foster spaces of activism and policy making across the diverse social worlds impacted by narco-power.
El comercio hemisférico de sustancias prohibidas ha ligado diferentes elementos que van desde los campos de coca hasta pistas de aterrizaje clandestinas, cárceles y santuarios religiosos. El tráfico de drogas ha dado lugar a una dinámica red de actores repartidos en terrenos cambiantes de producción, tráfico e interdicción. Estos incluyen a los cocaleros, prisioneros, fuerzas de seguridad del estado, carteles y comunidades rurales, todo lo cual está imbricado con los signos, prácticas y formas organizativas que son creadas y sostenidas por el narcopoder.
Esta presentación en video se basa en investigación antropológica en Perú, México, Brasil y Ecuador que está orientada temáticamente en torno a la narcoestética. Esta se refiere a las experiencias sensoriales y relaciones corpóreas con el narcopoder, entendido como un término amplio que abarca a pequeños traficantes, empresas criminales transnacionales y la economía política más amplia del crimen organizado. La narcoestética también es un enfoque etnográfico crítico que busca resaltar las subjetividades de los civiles a menudo invisibilizadas por los informes periodísticos, gubernamentales y académicos de la guerra contra las drogas. La primera mitad de nuestra presentación define y describe el narcopoder y la narcoestética, mientras que la segunda identifica formas creativas y experimentales de hacer o componer etnografías que fomenten espacios de activismo y formulación de políticas en los diversos mundos sociales impactados por el narcopoder.
Organizers · Organizadores
Sydney Silverstein
Research Assistant Professor, Department of Population and Public Health Sciences, Wright State University Boonshoft School of Medicine
Marcos Mendoza
Associate Professor, Department of Sociology & Anthropology, University of Mississippi
Panelists · Panelistas
Sydney Silverstein
Research Assistant Professor, Department of Population and Public Health Sciences, Wright State University Boonshoft School of Medicine
Marcos Mendoza
Associate Professor, Department of Sociology & Anthropology, University of Mississippi
Jorge Núñez
Co-Founder, Kaleidos Center for Interdisciplinary Ethnography
Miller Rivera
Researcher, Kaleidos Center for Interdisciplinary Ethnography
Erika Robb Larkins
Associate Professor, Anthropology and Sociology; Behner Stiefel Chair of Brazilian Studies; San Diego State University
Locations · Ubicaciónes
Columbus, Ohio, USA
Oxford, Mississippi, USA
Cuenca, Ecuador
San Diego, California, USA