Listening and Community Engagement in the American Religious Sounds Project · Escucha y participación comunitaria en el Proyecto Sonidos Religiosos Americanos
What does religion in the United States sound like? How do we understand American religious pluralism differently when we begin by listening for it? These questions animate the American Religious Sounds Project (ARSP) which offers new resources for documenting and interpreting the diversity of American religious life by attending to its varied sonic cultures. This panel presents some of the materials archived on the ARSP website and discusses the work of the ARSP's Community Engagement Committee, which is planning multiple exhibits about religious sound, emphasizing the relationships between sound and space, community, experience, and materiality. In planning these exhibits, the committee is developing a framework for group listening practices with multiple experiential, audio-centric installations. Our exhibits will utilize sound design to explore communities and themes that have emerged in the ARSP's work so far, and to listen for threads and conversations between them, thus presenting sounds in a manner that is inherently relational, rather than comparative. We also discuss how the ARSP encourages the redistribution of knowledge and authority in its work with communities through listening and recording workshops.
¿Cómo suena la religión en los Estados Unidos? ¿Cómo entendemos el pluralismo religioso estadounidense de manera diferente cuando comenzamos por escucharlo? Estas preguntas animan el Proyecto de Sonidos Religiosos Americanos (ARSP por sus siglas en inglés), que ofrece nuevos recursos para documentar e interpretar la diversidad de la vida religiosa estadounidense atendiendo a sus variadas culturas sonoras. Este panel presenta algunos de los materiales archivados en el sitio web de ARSP y analiza el trabajo del Comité de Participación Comunitaria de ARSP, que está planeando múltiples exhibiciones sobre sonido religioso, enfatizando las relaciones entre sonido y espacio, comunidad, experiencia y materialidad. Al planificar estas exhibiciones, el comité está desarrollando un marco para las prácticas de escucha grupal con múltiples instalaciones experimentales y centradas en el audio. Nuestras exhibiciones usarán diseño de sonido para explorar comunidades y temas que han surgido en el trabajo de ARSP hasta ahora, y para escuchar conexiones y conversaciones entre ellos, presentando los sonidos de una manera inherentemente relacional, en lugar de comparativa. También discutimos cómo ARSP fomenta la redistribución del conocimiento y la autoridad en su trabajo con las comunidades a través de talleres de escucha y grabación.
Organizers · Organizadores
Vicki Brennan
Associate Professor, Department of Religion, University of Vermont
Ely Lyonblum
Research Grants Officer, Faculty of Music, University of Toronto
Lauren Pond
Multimedia Producer, American Religious Sounds Project, The Ohio State University
Locations · Ubicaciónes
Columbus, Ohio, USA
Burlington, Vermont, USA
Toronto, Ontario, Canada
Last active: 3 years ago

25

members

0

posts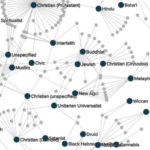 Listening and Community Engagement in the American Religious Sounds Project · Escucha y participación comunitaria en el Proyecto Sonidos Religiosos Americanos